In the process of training talents for many years, the Department of Electrical Engineering has established a perfect teaching management system.
In 2004, the Department set up a teaching advisory committee, which extensively invited people from all walks of life to guide the direction of our department's personnel training. In 2005, a teaching supervisory group was set up in the Department to supervise all aspects of teaching in the department and participate in decision-making and consultation of teaching work. In 2006, the Department of Electrical Engineering established five professional basic course groups and three professional course groups according to the logical relationship between the contents of courses in the training program. In 2013, a Department Teaching Committee was set up to strengthen teaching management. The current teaching management organization of the Department is shown in the following chart. This organization structure breaks the traditional linear, unified and pyramid management, and constructs a matrix and diversified teaching management system.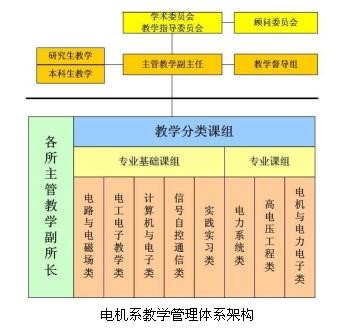 Hierarchical structure:
The teaching management system of the Department of Electrical Engineering is divided into three different levels.
The Academic Committee of the Department is the highest academic institution in the Department. Its responsibilities in teaching are to review the establishment, adjustment and development planning of disciplines and majors, to formulate and revise various curriculum training programs, and to identify and evaluate the teaching qualifications of new teachers. The Teaching Committee of the Department is specifically responsible for the specific teaching affairs such as examination and approval of new courses and the revision of training programs.
The deputy director in charge of teaching, teaching supervisory group, and graduate teaching and undergraduate teaching offices constitute the main daily management body of the department's teaching work, which is fully responsible for the organization, supervision and coordination of teaching work.
Each professional course groups and research institutes are mainly responsible for the specific implementation and detailed management of teaching work.
Matrix management:
The Institutes and the course groups are the primary-level organizations of the teaching management in the Department and the foundation of the whole teaching management system. They play different roles, with clear division of labor and mutual cooperation. The course groups mainly focus on the management and construction of the curriculum, which are the core of the teaching link. The Institutes are mainly responsible for the centralized function modules and the teaching work related to scientific research, such as comprehensive thesis training, production practice, graduate defense, research work, SRT and so on. The teachers in each institute intersect with the ones in each course group, and they have dual functions.
The matrix structure composed of research institutes and course groups not only ensures the stability of the grass-roots management organizations, but also realizes the dual management of the grass-roots teaching work. The two teaching management entities can promote each other and complement each other. This also ensures the integration and mutual promotion of teaching and scientific research required by research universities from the management organization.